ALERT

      

ALERT        ALERT
#DYK? @CDCgov's recommendation on wearing a cloth face covering may help protect the most vulnerable from #COVID19.

Here's how you can make one today, in just a few easy steps: pic.twitter.com/eFuE7Brw0J

— U.S. Surgeon General (@Surgeon_General) April 4, 2020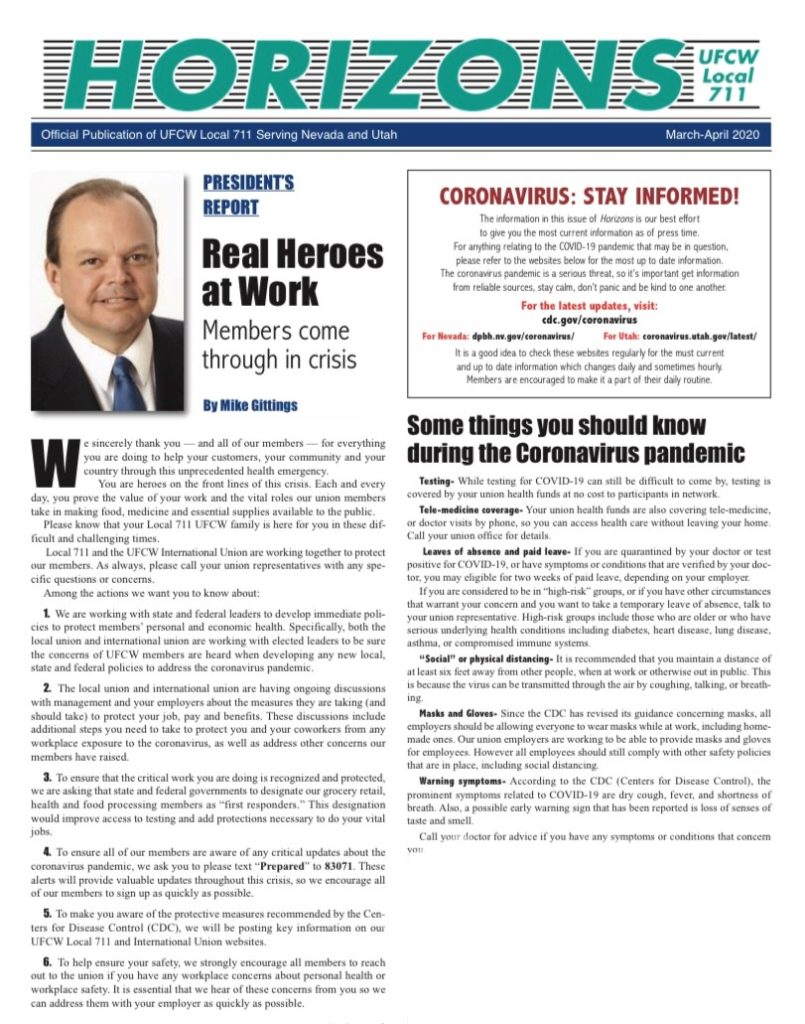 Local 711 members received automated  calls on the morning of 3/26/2020 with the following message. If your phone showed a missed call from the union office, this message was the likely reason:
This is an informational call about COVID 19 for the members of Local 711.
This is Michael Gittings Local 711
I want to thank you, and all of our UFCW members who are on the frontlines of this unprecedented health crisis.
You and your fellow UFCW members are true heroes.
Please know that your union family is here for you.
As always, please call your union representatives with any questions or concerns.
Get updates and learn more about actions the union is taking by visiting our website at ufcw711.com.
Sign up for text alerts from your union by texting the word PREPARED  to 83071. For the latest information on the crisis, please visit www.ufcw.org/coronovirus.
Thank you again, and stay safe.
March 23, 2020
Dear UFCW Members:
We want to sincerely thank you- and all of our members- for everything you are doing to help your customers, our community, and your country through this unprecedented health crisis. You are on the frontlines of this crisis, and you are proving how invaluable your work is, and the vital role our union members play in times like these.
Please know that your Local 711 UFCW family is here for you during these difficult and challenging times. You are not alone. We are one union family, and we are in this together.
We will be providing you with updates on this website, such as those noted below, on what action your Local Union and the International are taking to protect all of our members. As always, please call your union representatives with any questions or concerns.
Among the actions we wanted you to know about include:
1)  Working with the state and federal leaders to develop immediate policies that will protect members' personal and economic health. specifically, both the local union and international union are working with elected leaders to make sure the concerns of UFCW members are heard when developing any new local, state, and federal policy to address the coronavirus pandemic.
2) The Local Union and International Union are having ongoing discussions with management and your employers about the steps they are taking (and should take) to protect your job, pay and benefits. These discussions include additional steps that you need to take to protect your co-workers from any work place exposure to the coronavirus, as well as address concerns our members have raised.
3) To ensure that the critical work you are doing is recognized and protected, we are asking that state and federal governments  designate our grocery retail, health, and food processing members as "first responders". This designation, we believe, would improve access to testing and additional protections necessary to do your vital jobs.
4) To ensure that all our members are aware of any critical updates about the coronavirus pandemic, we are asking you to please text "Prepared" to 83071. These alerts will provide you invaluable updates through out this crisis, so we will be encouraging all of our members to sign up as quickly as possible.
5) To make you aware of the protective measures recommended by the Center of Disease Control (CDC), we will be posting key information on our Local Union and International Union websites.
6) To help ensure your safety we are strongly encouraging all of our members to reach out to us at 702-648-7112, if they have any workplace concerns about their personal health of workplace safety. It is essential that we hear of these concerns from you so we can address them with your employer as quickly as possible.
With respect to your health,  and the health of your loved ones, it is essential that we take smart steps to protect ourselves. For example, if you show any symptoms of the coronavirus, which include fever, dry cough, and shortness of breath, you should immediately call your health care provider. To find out additional information of what you can and should do to protect yourself, please visit CDC.gov.
On a more personal level, we know that these are incredibly stressful days for you and all members of our union family. During such trying moments, we want you to know that your union will be here for you. As difficult as the days ahead may be, we will get through this together.
Thank you again for all the work that you are doing, and please do not forget to sign up for texts alerts by texting "Prepared" to 83071.
Stay safe,
Sincerely and fraternally,
Michael Gittings
President
Deanna Leivas
Secretary- Treasurer
Update!
After discussions with the UFCW, both the Albertsons company, which includes Safeway and Vons in the western part of the U.S., and Kroger, which owns Smiths Food and Drug in Nevada and Utah, have announced extra pay bonuses for their employees who are working during the current health crisis.
Albertsons, Safeway, and Vons employees will receive an additional two dollars per hour for a two week period, which is the current workweek and next week. Smiths Food and Drug employees will be receiving lump sum bonuses as well. Details will be forthcoming
November-December, 2019
Times Change in the retail stores, but people will always matter
The times are a-changing, as Bob Dylan famously said, and this is especially true in the retail food and drug business. Two major drivers of change in the 21st century have been corporate consolidation and technological innovation, and we can expect these factors will remain in play in the foreseeable future. Consider these two recent developments: 1.Walgreens buyout? Supermarket News reports that the private equity firm KKR & Co. is offering to purchase Walgreens Boots Alliance (WBA), owner of 9,560 Walgreens and Duane Reade drug stores across the United States. If WBA accepts the purchase offer, it would result in the largest leveraged buyout ever, valued at approximately $56 billion. In 2017 Walgreens attempted to acquire Rite Aid at a cost of $17.2 billion, but that deal was blocked by federal regulators who said it would go too far in reducing competition marketplace. Instead, Walgreens ended up buying 1,392 Rite Aid stores for 4.4 billion in 2018. Many of those stores were then closed because they operated near existing Walgreens stores. Walgreens and Rite Aid are both having a tough time competing against CVS Health, which has become a giant in the health care field after acquiring Aetna Inc. In addition, Amazon is expected to enter the retail pharmacy business in a big way following its acquisition of the online pharmacy PillPack. How would a buyout of Walgreens by KKR affect union members? That's a hard question to answer. Walgreens is almost entirely non-union, except for some Rite-Aid stores it operates and a few Walgreens stores in San Francisco. On one hand, it's possible that new ownership could present new opportunities for organizing retail drug workers across the country. On the other hand, if KKR takes a strong anti-union stance, a revitalized Walgreens chain could pose a threat to union-affiliated stores operated by both Rite Aid and CVS. 2.'Frictionless' checkout The Dutch retail conglomerate Ahold Delhaize is testing a new small-store concept called lunchbox (with a small "L") that lets customers pick items off the shelves and take them home without going through a checkout line. This "frictionless checkout" concept is similar to Amazon Go, which charges shoppers and then debits their accounts automatically and invisibly. According to an article in Supermarket News: "products removed from the stores shelves are detected by artificial intelligence (AI) running on Intel Core i5 and i7 processor-based systems optimized with the Intel Distributions of OpenVINO toolkit. Likewise, anonymous body skeletal tracking connects the products taken to the shopper who removed them from the shelf. This doesn't mean customers are scanned down to their skeletons, but it uses their body shapes to construct simulated skeletons which are then tracked through the store. In addition, cameras embedded throughout the store track the shoppers eye movements. This sounds creepy and Big Brother-ish to me, but the really important problem with this technology is that it destroys jobs for human beings. And  without jobs, how will people be able to buy food from these stores? One thing is certain: You won't find me shopping at these stores or even using self-checkout stands at regular supermarkets. I'd rather deal with a real person,  a union member who cares about who I am and how my day is going. Someone who doesn't see me as a simulated skeleton moving through a digitized matrix. The times may be a-changing, but respect for people is a value that never changes. Happy Holidays to all of the humans in our union family.
August-September, 2019
UFCW members contribute greatly to the success of top grocery companies
Over the past couple of decades, we have seen unprecedented changes in the grocery industry. Mega-companies have bought and merged with other Mega-companies. Some have declared bankruptcy or have folded altogether. UFCW members have been disrupted, laid off, re-hired, and hit hard by new competition from less than scrupulous non-union employers, led by Walmart. Through it all, our members have preserved. They have continued to work hard for the success of their employers, and it shows. After all, it is those same employees who provide the excellent service that keeps drawing customers into their stores. Kroger, owner of Smith's food and drug in Nevada and Utah, is doing well. Very well indeed. The Cincinnati- based company, which also owns Ralphs and food 4 less in California, Fry's in Arizona, and a dozen other supermarket chains across the United Sates, is doing so well that it ranked third in a recent survey of America's biggest retailers. The list compiled by Kantar Consulting places Kroger barely behind Amazon, the e-commerce giant. Walmart remains #1 in total sales, as it has been for more than two decades. With an estimated income of $123 billion in 2018, Kroger even beats Costco in total retail sales. Costco pulled in only $101.5 billion last year. Altogether, Kroger and its subsidiaries operate 3,254 stores in 42 states. Albertsons LLC, which owns Albertsons, Safeway, and Vons stores in Nevada and Utah, is also doing well. It announced a 1.8% increases in net sales to $13.8 billion for its third financial quarter of 2018. Safeway also posted tremendous sales gains in the Kantar Consulting report. As this issue of Horizons goes to print, Local 711 is continuing to negotiate for new grocery contracts for both southern and northern Nevada. Given Kroger's, Albertsons and Safeway's profitability and competitive success, and UFCW members role in that success, it is perfectly reasonable for members to expect to achieve exceptional contracts in this round of negotiations, which are currently proceeding not only in Nevada, but in other UFCW local Unions in places such as Oregon and Washington, and of course follow the recent successful contract settlements in California. As stated before, in these negotiations we must deal with difficult issues such as securing your health and retirement benefits. We are also committed to achieving a fair contract with significant wage increases. While the economy will always have its ups and downs, one truth remains the same: UFCW members deserve to share in the success they help create for their employers! Remember to support your union in these efforts, and make sure everyone knows that you are proud to be a part of your company's success, but that you also expect a great contract! Remember, Solidarity works!
Negotiations update! California Unions settle contracts as Local 711 focuses on new agreements
            Some of you may have heard that UFCW unions in California settled their contracts with several supermarkets employers, avoiding a strike in the southern part of the state. As our own negotiations continue in Las Vegas and elsewhere, many important issues are still on the table, including funding for our members' retirement and health plans, and, of course, WAGES! We have told the employers that our members work hard in the stores and they deserve to share in the profits they make possible. Wages in the industry are not keeping up with the cost of living. Over the years we have seen major increases in rent, childcare, fuel, utilities and other everyday living expenses. So we want our members to continue to express their need for a substantial wage increase in the next contract, as well as other improvements. Keep in mind that Local 711 has developed strong ties with other labor Unions and community groups in Nevada and Utah, and with the support of UFCW nationwide we have a powerful Union alliance working on behalf of Local 711's members, so we are not alone! Remember, stay strong in solidarity because solidarity works!
May-June 2019
Supermarket Negotiations: Getting good contracts takes solidarity!
    You might have heard about the recent UFCW strike at Stop & Shop grocery stores in Massachusetts, Connecticut and Rhode Island. More then 31,000 workers walked off their jobs on April 11 to demand a fair contract and fend off company proposals that would have effectively resulted in pay cuts for most employees. As one union supporter said, the union members "felt a lack of respect for the hard work that they do."  The Strike was settled successfully after 11 days, thanks to an overwhelming outpouring of support by the members' UFCW brothers and sisters, as well as support from other unions and religious and community leaders. At the heart of the effort was the incredible solidarity of the striking members, who stuck together and supported their union through thick and thin. Similar stories are found in recent successful contract negotiations in the western United States, including Colorado, New Mexico and Local 711's jurisdictions in Utah and Northern Nevada.
The power of Solidarity
Fortunately, these contract settlements did not involve members going on strike. What they did have in common, however, is member solidarity. Members supported each other and their union's effort. They stayed strong and solid throughout the sometimes lengthy and slow process of crucial contract negotiations. As this issue of Horizon's goes to print, local 711 is working hard to negotiate new grocery contracts for southern Nevada and for additional contracts in Northern and Southern Nevada. At the same time, the grocery contract in Southern California, which also expired in March and covers 60,000 UFCW members, is also being negotiated. In these negotiations we must deal with difficult issues such as securing your health and retirement benefits. We are also committed to achieving a fair contract and significant wages increases. Improving wages has become a priority nationwide, and not just among unions. Progressive groups, community leaders, faith leaders, and politicians have also ramped up the pressure on employers to do better. In the meantime, it is essential for you, the members of Local 711 to continue supporting your fellow members and union. Use your voice! Speak in support of your union! Express your priorities, and expectations. Your opinion counts!  Your willingness to stand together can make all the difference! Our success depends on your solidarity!/